More than 2 millions users
The definitive
guitar app
Chord! is a unique guitar app that will help you become a better musician. Whatever the chord or scale, it will always have the answer.
Top 10 apps
to begin the year
Special apps
Guitar & Bass
Featured app
Apps of the week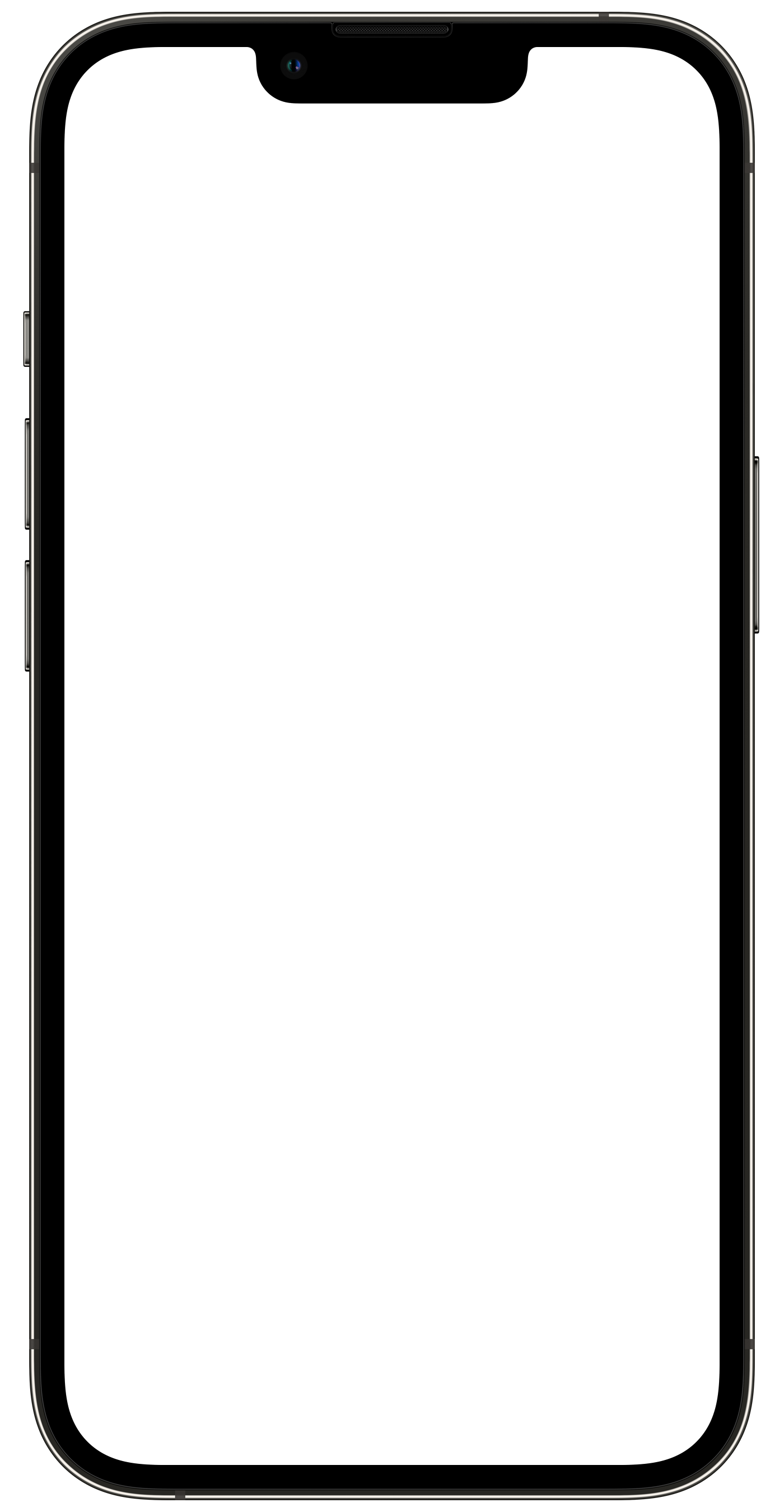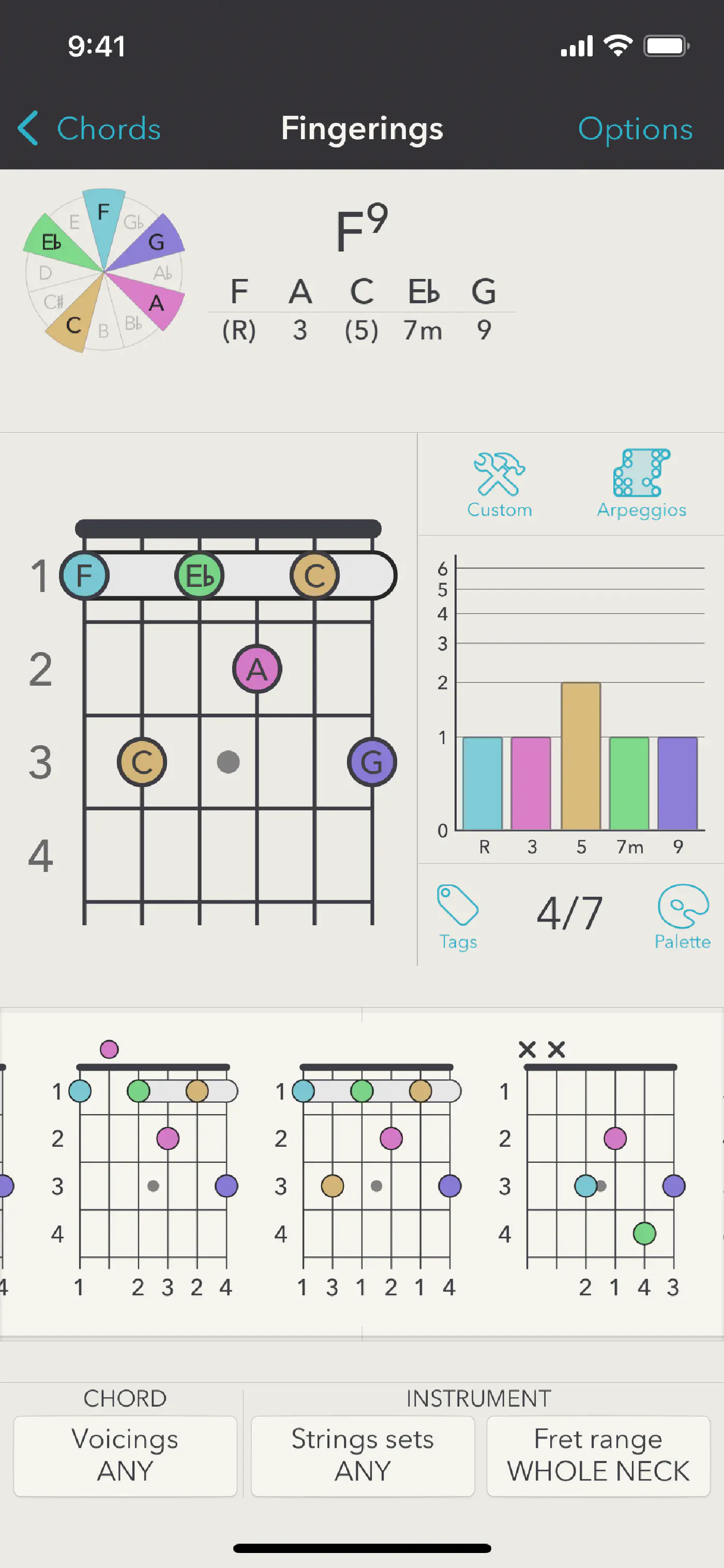 Top 10 apps
to begin the year
Special apps
Guitar & Bass
Featured app
Apps of the week
The ultimate chord and scale reference
Chord! performs musical computations instead of using a premade list. It adapts to any instrument, any chord, or any scale.
Find the best fingerings!
Generate bespoke fingerings that will fit right in. Whereas you're using a guitar, a bass in drop-D, or a ukulele with a capo, the app can work out all the possibilities and will show you the best results.
All the chords

In a few taps, you can request fingerings for any chord, from C major to the most complex jazz voicings.

All the scales

Pick any musical scale and discover how it looks beyond the CAGED shapes.

All the arpeggios

Generate arpeggios that can be played blazingly fast, in any direction, for any picking pattern.
You don't know Music Theory? No problem!
The app knows that the 5th is optional in a 9th chord, that this C note is instead a B#, that this jazz scale's key is F minor, and it will use this to give you more meaningful and accurate results. This will help you understand how it works.
Learn how chords are formed

Go beyond the circle of 5th and discover how you can harmonize any scale and generate new chords that go well together.

Find the right scale for your solo

Give the app a few chords and it will propose scales that will sound good when played over them.

Discover new voicings

Are you looking for a specific inversion or a drop 2-4 voicing between the 5th and 9th fret that avoids the 1st string? The app takes care of everything!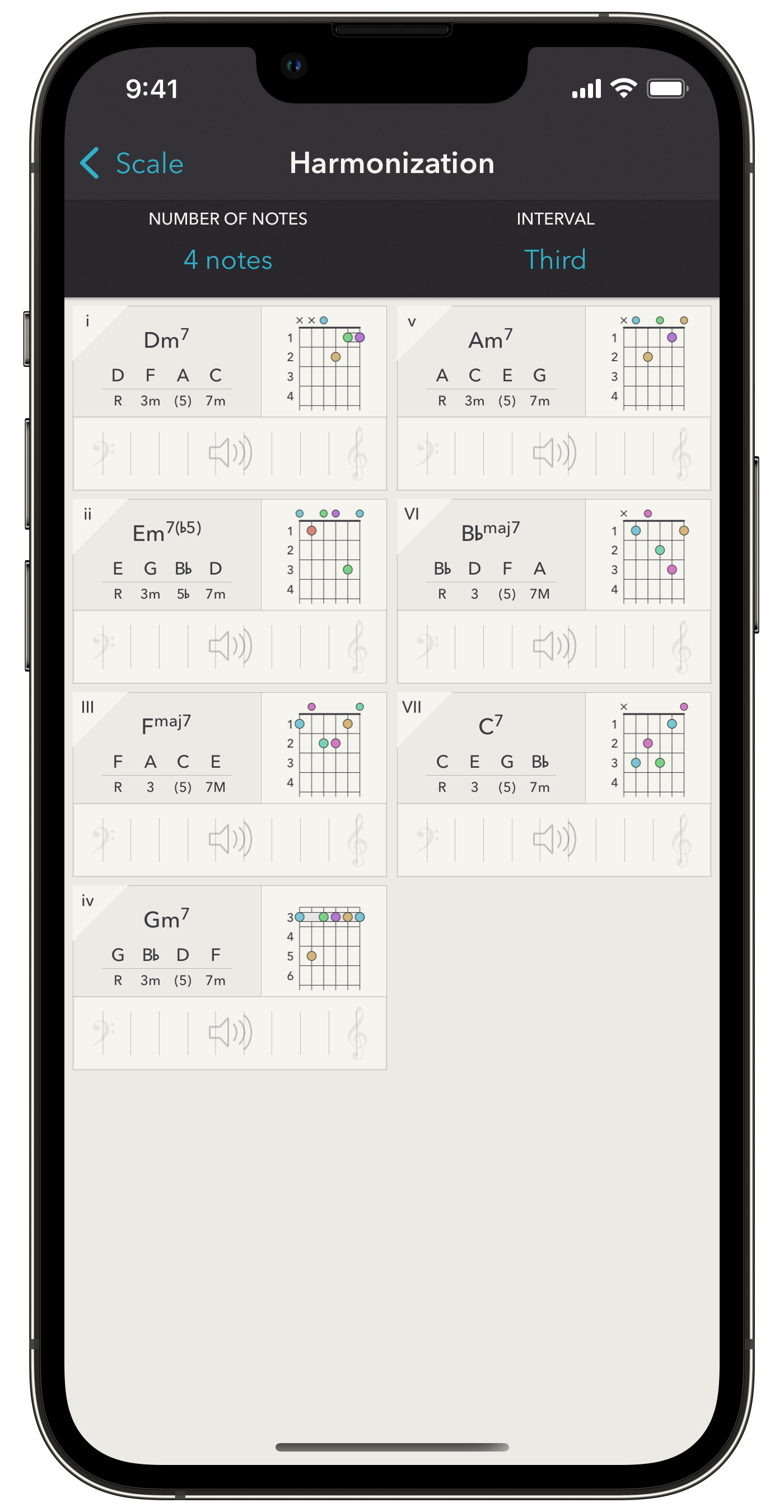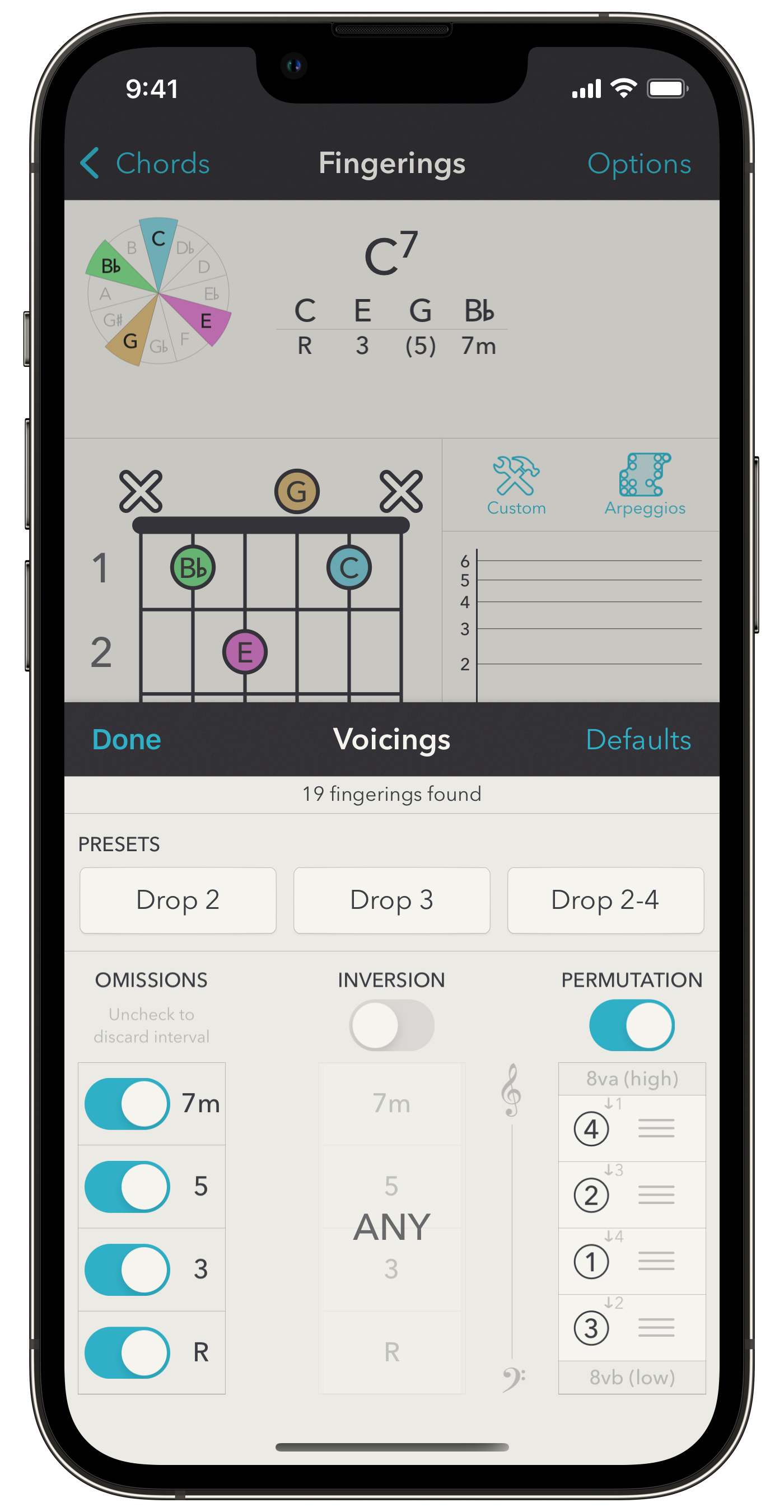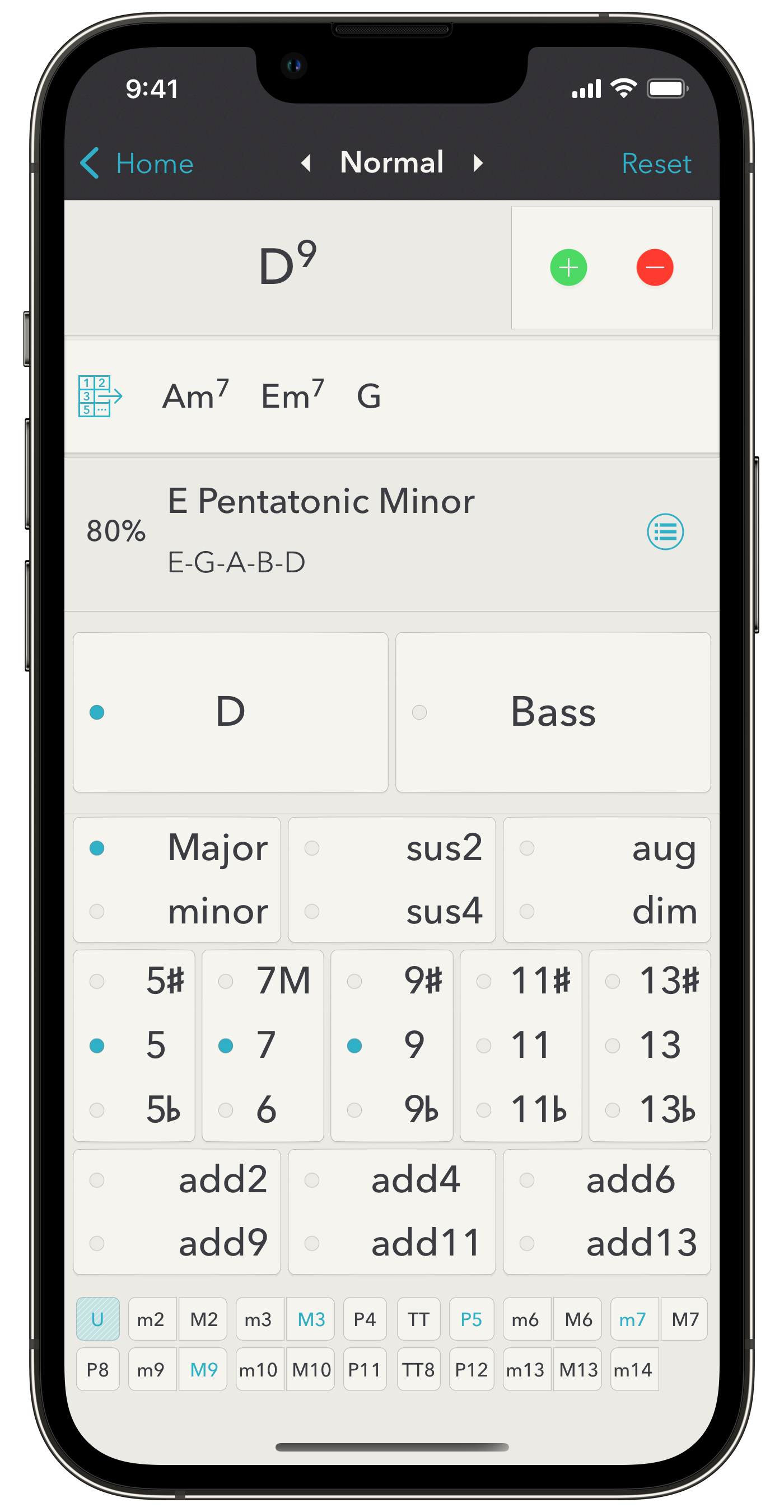 Only on iOS and macOS
Keep all your songs in your pocket!
On Apple devices, the app can store an unlimited number of songs with chords and lyrics. You can transpose them and compute fingerings for any instrument or tuning.
On all your devices

Songs are automatically synced using iCloud between all your devices: iPhone, iPad, or even Macs with Apple silicon.

Transpose or change the tempo of your audio tracks

Attach some MP3 or AAC files to a song and the app will play them along, change their pitch or their speed.

Easy import, Pro export

You can import songs by copying/pasting any text that contains chords and lyrics, and you can export them as beautiful, full-vector PDF files.
And much more…
Reverse Search

Pick a few notes on the neck, and the app will use music theory to infer missing notes and give you the most natural chords or scales.

Any instrument, any tuning

Select one of the hundred tunings that come with the app or create your own ones. You can add straight or custom capos, or even specify broken strings!

Hear how it sounds

Swipe across fingerings with your finger to hear how each voicing sounds. Feel how arpeggios sound with one tap on a button or play them note by note.

Utterly configurable

Use sensible defaults out of the box or tweak the chord or scale engines to the extreme and match your capabilities or your instrument.